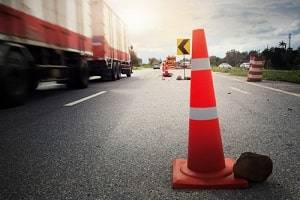 Road work areas are a common sight on Illinois roads. While they can be a nuisance, leading to slow traffic and difficulty navigating unfamiliar traffic patterns, they can also lead to serious consequences for drivers who commit traffic violations. Failure to follow traffic laws in construction zones can result in expensive tickets, and drivers may even face criminal charges in some cases.
Construction Zone Speeding Violations
The speed limit is usually lowered in work zones, and signs will be posted notifying drivers that they must reduce speed and displaying the fines a person may face for speeding in a construction zone. Work areas are often closely monitored by police officers, or photo enforcement may be used to ensure that motorists are taking the proper measures to protect the safety of workers. Drivers are required to follow work zone speed limits even if there are no workers present.
For a first offense of speeding in a construction zone in Illinois, a driver will face a minimum fine of $375. Any subsequent violations will result in a minimum fine of $750. A second offense within two years will result in the suspension of a person's driver's license for 90 days.
...