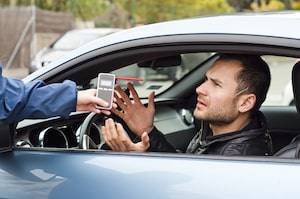 The legal blood alcohol content limit for anyone operating a motor vehicle is 0.08 percent. Consequently, many motorists assume that an individual may only be arrested for driving under the influence of alcohol or drugs (DUI) if their blood alcohol content is above this limit. However, it is possible to be arrested for DUI even if you pass a breathalyzer test or refuse to take the test. If you have been arrested for DUI, knowing your rights regarding DUI-related traffic stops, breathalyzers, and blood tests is key to forming a strong defense against the charges.
Illinois Law Does Not Require a Failed Breath Test for a DUI Arrest
In Illinois, 0.08 percent BAC or higher is considered intoxicated "per se" or intoxicated by law. However, Illinois law does not require per se intoxication for a DUI arrest. The law states that it is illegal to be in "actual physical control" of a vehicle while:
Under the influence of alcohol

Under the influence of an intoxicating compound that makes the driver unable to drive safely

...