Investigating Domestic Violence and Assault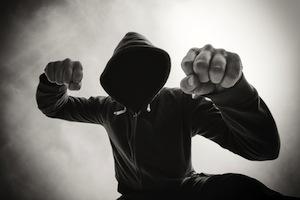 Violence seems to occur everywhere today—in the mainstream media, in workplaces, and in your own home. Many people blame various sources: added stress, alcohol or drug use, or even because an individual simply snapped. The reasoning is limitless and the factors that trigger anger are different for everyone.
Laws do not handle violence cases lightly in the state of Illinois. In fact, they can be dealt with in a very harsh manner. Furthermore, domestic violence and assault charges are very different and are also susceptible to different penalties.
What is Assault and Aggravated Assault?
As with the vast majority of criminal charges, there are varying degrees of severity. The same holds true with assault and aggravated assault, which are both different from domestic violence.
Assault occurs when someone knowingly and intentionally makes someone else fearful for his or her life, or for the wellbeing of someone else, without any physical contact actually being made. If physical contact is made, the action delves into the realm of battery, rather than assault.

Aggravated assault occurs when an attempt at extreme bodily harm is made, either knowingly or recklessly. Specifically, if an assailant intends to do more than frighten his or her victim, then it becomes aggravated. Aggravated assault can be as simple as assault while wearing a hood or a mask to disguise one's appearance. Assault with the intent to murder, rape, or rob are often in this category as well as assault with a deadly weapon. In this form, "deadly" does not have to be a firearm or other common self defense tools. It can be anything that may be used and could potentially kill someone. Also, if assault is made on a specific group of protected individuals, it qualifies for aggravated assault. Protected individuals include police officers, firefighters, park employees, the elderly, handicapped individuals, coaches, teachers and judges.
What is Domestic Violence?
Domestic Violence is regulated by the Illinois Domestic Violence Act of 1986. In short, this act supports victims of Domestic Violence and actively punishes any "family or household member" that has committed any act of "abuse." In further detail, these terms specifically mean:
Family or Household Member:

Spouses (current or former);

Parents, biological children or stepchildren;

Anyone who shares the residence (currently or previously);

Anyone that has a romantic relationship, either dated or were engaged, regardless of gender;

Those who are believed to have a child together; and

Individuals with a disability or their assistants.
Abuse:

Physical abuse (shoving, kicking, hitting, forcing sex, or refusing to let you leave the premises);

Harassment (disturbing a place of work, incessant phone calls, threatening);

Stalking;

Assault;

Kidnapping;

False Imprisonment;

Abuse in front of a child or other person;

Sexual assault or battery;

Forcing someone to do something he or shes does not want to do; or

Denying a disabled person to his or her necessary care.
These charges range from a Class C Misdemeanor which can result in 30 days of imprisonment and $1,500 worth of fines all the way up to a Class 4 Felony. Additionally, this conviction can result in three years in the state prison and up to $25,000 in fines. With penalties such as these, it is advisable to seek legal counsel.
Speak with an Illinois Criminal Defense Lawyer Today
Having a skilled attorney on your side can make the difference in the outcome of an assault or domestic violence case. Therefore, if you have been charged with a crime and are in search of a DuPage County, IL criminal defense attorney, please contact Davi Law Group, LLC. Call 630-580-6373 today to speak with one of our attorneys. We can review your case and look out for your best interests.
Sources:
http://www.ilga.gov/legislation/ilcs/ilcs5.asp?ActID=2100
http://www.illinoisattorneygeneral.gov/women/idva.html
http://www.illinoisattorneygeneral.gov/women/idva.pdf
http://www.isp.state.il.us/crime/domesticviol.cfm