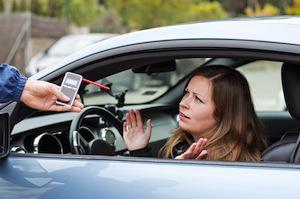 It is popularly suggested that drivers suspected of driving under the influence submit to field sobriety testing in order to avoid a DUI charge. While there may be several reasons why one should avoid these tests in many other states, the state of Illinois has enacted steps to "persuade" drivers to do so. In most cases, refusal would not be in one's favor. However, with the most commonly used form of sobriety tests, the breathalyzer, it is important to understand that the technology has many downfalls.
Laws to Prevent Refusal
The state of Illinois is an "implied consent" state. This ultimately means that in return for driving permissions, if you are arrested for DUI and the arresting officer had probable cause for the arrest, then you are consenting to a chemical test of your blood alcohol content (BAC). This can be in the form of blood, breath or urine.
The law goes on to explain that you also consent to a preliminary test, which in most cases use a breathalyzer test. The results of the preliminary test will be used to establish probable cause, which may result in an arrest. After the arrest is made, then you are required to submit to chemical testing. However, if you refuse to take the chemical test, then you will be subject to penalties, which the officer is required to tell you at the time of refusal. Penalties for refusal include:
...