Weapons Charges in Illinois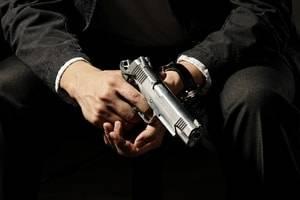 Illegally possessing a weapon is a serious crime that comes with unwanted consequences. Weapons are dangerous and can negatively affect the lives of others. If a weapon is used against a person, he or she may be seriously injured or even killed from injuries inflicted from the use of the weapon.
If you have been charged with illegally possessing a weapon, then you may face life-altering changes that may destroy your well-being, overall quality of life, and even future employment opportunities.
What Counts as a Weapons Charge?
The conviction of illegally possessing a weapon is when a person knowingly sells, manufactures, purchases, possesses, or carries the following:
Bludgeon;
Black-jack;
Slung-shot;
Sand-club or sand-bag;
Metal knuckles;
Throwing star; or
Any knife.
A person may also be convicted of a weapons charge if he or she intentionally carries or possesses a dagger, dangerous knife, or stiletto to cause bodily harm to another person. He or she may also possess in a vehicle a tear gas gun projector or bomb that contains toxic gas or other substance.
Consequences of Illegally Possessing a Weapon
If a person is found illegally possessing a weapon, then he or she may face a Class A misdemeanor. Depending on the type of weapon possessed, the person may be charged with a Class 4 felony or Class 3 felony. A person who sells or manufactures a machine gun, a rifle having one or more barrels less than 16 inches in length, or any bomb or grenade may be charged with a Class 2 felony and could be sentenced to prison between three and seven years.
If the weapon is found in the passenger side of a vehicle, or even on the person while the weapon is loaded with ammunition, the person will be charged with a Class X felony. A person convicted of a second or subsequent violation of illegally possessing a weapon will be charged with a Class 3 felony.
Contact a Wheaton Criminal Defense Attorney
If you have been charged with illegally possessing a weapon, you do not have to fight the legal battle alone. At Davi Law Group, LLC, we understand that being convicted with a weapons charge can severely destroy your life, and we will work efficiently for you to win the best case results possible. For a free initial consultation, please call a DuPage County weapons charges defense lawyer at 630-580-6373 to discuss your case.
Source:
http://www.ilga.gov/legislation/ilcs/fulltext.asp?DocName=072000050K24-1