What is White Collar Crime?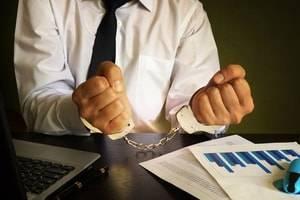 If you have ever seen the movie, "The Wolf of Wall Street," then you have some idea of what white collar crime is. When you hear the word crime, most people think of blood, dead bodies or violence. White collar crime is a type of nonviolent crime that typically does not involve any sort of physical violence. The term white collar crime was coined in 1939 and now encompasses a wide range of crimes, mostly dealing with gaining profits. According to the Federal Bureau of Investigation (FBI), white collar crimes are characterized by deceit, concealment or violation of trust. Though these crimes do not physically hurt people, they are not victimless crimes and they can destroy companies and cost people billions of dollars.
Types of White Collar Crime
There is a large variety of crimes that fall under the white collar crimes umbrella. Crimes that are considered to be white collar crimes include:
Corporate Fraud: One of the main areas of interest to the FBI is corporate fraud. Corporate fraud includes activities such as falsification of financial information, insider trading and other schemes that were designed to conceal corporate fraud activities and prevent them from being discovered by other governing bodies, like the Securities and Exchange Commission (SEC).
Money Laundering: Money laundering occurs when an individual or company conceals or disguises their profits from criminal activities to make them look like they came from a legitimate source.
Embezzlement: This crime occurs when a person takes personal property from someone who entrusted that property with them. Typically, embezzlement involves the misappropriation of funds and can happen in situations like when an employee finds a way to funnel company money into their personal bank account.
Investment Fraud: Investment fraud typically involves low or no-risk investments, overly consistent and/or guaranteed returns and complex strategies. One of the most famous types of investment frauds is Ponzi schemes. These schemes usually rely on funds from new investors to pay the debts owed to old investors.
A Wheaton, IL White Collar Crime Defense Lawyer Can Help
Among other law enforcement agencies, the FBI is the main investigating body for white collar crimes. This means that you can face federal charges for white collar crimes, which almost always carry sentences that are more strict than state charges. If you are facing charges for any type of white collar crime, a skilled DuPage County white collar crime defense attorney can help. At the Davi Law Group, LLC, we will launch a full investigation into your case so we can provide you with the best defense possible. Call our office today at 630-580-6373 to schedule a free consultation.
Sources:
https://www.fbi.gov/investigate/white-collar-crime
https://www.ncu.edu/blog/5-most-common-white-collar-crimes#gref