Breathalyzer Pitfalls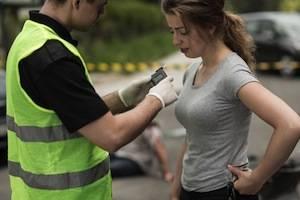 You are charged with your first DUI. You knew you only had one drink and were safe to operate your vehicle. The swerve the officer reported occurred when you were avoiding a deer. The shifts in your driving speed were because it was late on a Friday after a long week of work and you were not even paying attention to your foot. Shocked to see an officer's lights in your rearview mirror, you assumed you might have been speeding. When the officer asked you to submit to a breathalyzer, although confused, you agreed. You failed. Your life is dramatically altered now because of that test, which, in your opinion, was wrong.
The Outlook
If you have never been the recipient of a DUI, a wealth of new thoughts may be running through your mind, not the least of which is what this can do to your future. In Illinois, there are strict regulations pertaining to the punishment of DUI offenders. Consequences for the first offense include:
Up to one year of incarceration;
Fines and penalties of up to $2,500;
Minimum license suspension of up to one year; and
Required interlock Ignition Device (IID) installation.
Although much of this appears intimidating, remember that no matter the odds stacked against you, there are often avenues for a defense that are not immediately visible. Also, with the newly instated DUI laws, you may be eligible for a Monitoring Device Driving Permit (MDDP) within the first 30 days of the statutory suspension period—further proof that the situation may not be as dire as it presently seems.
Potential Defense
Despite multiple studies of evidentiary proof displaying the inadequacies of the technology, breathalyzers are still commonly used for identifying alcohol impaired drivers on the roadway. Therefore, even after a client failed a breathalyzer, the accuracy of the machine must be called into question, as well as other contributing factors. However, tearing apart the test itself is not the only potential defense. Others include the following:
Poor driving does not automatically constitute a DUI;
Subjective opinion of displayed behavior does not mean alcohol was involved;
The observation period was not conducted properly;
You were mentally alert and therefore not impaired; and
Failure on an officer's part to follow police protocol.
After being arrested for a DUI, you may experience a wide variety of emotions—anger and embarrassment, anxiety and confusion. Your future is at stake and time is of the essence. Your best option is to be proactive and contact a skilled professional as soon as possible. If you are interested in discussing your situation with a qualified DuPage County, IL DUI defense attorney, call Davi Law Group, LLC today at (630) 580-6373. We offer four convenient locations and proudly serve residents of DuPage, Kane, Cook, Kendall, and Will Counties.
Sources:
https://www.cyberdriveillinois.com/publications/pdf_publications/dsd_a118.pdf
http://www.cyberdriveillinois.com/newlaws16.pdf
http://www.isp.state.il.us/docs/alcoholt.pdf