Can Arguing with an On-Duty Officer Result in a Criminal Record?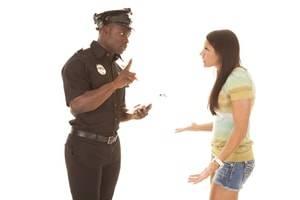 Maintaining one's composure is often the best way to handle an interaction with an on-duty police officer. Although an individual does not have to be so kind as to give an officer incriminating evidence about himself or herself, treating an officer with a fair amount of courtesy is always advisable. When interactions remain amicable, officers are more inclined to reciprocate.
However, police officers have bad days just like like anyone else. In some cases, emotions can rise and result in anger, hostility, and an argument. If you argue with an officer making an arrest, can you face charges of resisting arrest or obstruction of justice?
Resisting or Obstructing Arrest
State statutes regarding resisting or obstructing arrests are incredibly vague. The ambiguity is intentional by lawmakers, and thus allows for the inclusion of a broader range of behaviors.
Anyone who physically prevents a police officer, firefighter, or correctional institution employee from performing his or her job faces potential Class A misdemeanor penalties. Although civilly arguing with an officer is not criminal, taking affirmative action to prevent an arrest can minimally result in an additional 48 hours of imprisonment or 100 service hours tacked on to any other charges associated with the arrest.
Examples of resistant behavior include the following:
Pulling away from an officer;
Refusing to put one's hands behind his or her back; or
Running away.
Is Obstruction of Justice Different?
Resisting arrest is an attempt to avoid being taken into custody. Obstruction of justice is knowingly providing inaccurate information to an officer as it pertains to a criminal matter. In general terms, obstruction is intentionally lying. You may enact your rights to not answer questions without an attorney present; however, fabricating false information is inadvisable.
One of the most common forms of obstruction is giving a fake name at a traffic stop, which is often done to hide the fact that one's driver's license is suspended or revoked. Even this simple behavior can result in Class 4 felony charges, which are far more severe than the misdemeanor charges of resisting arrest.
Honesty is the Best Policy
In cases like these, it is best to remain cooperative, yet also silent. Police officers today often use the minor maneuvers of resisting arrest to force the 48-hour imprisonment while they attempt to build a case. Furthermore, even if all of the other charges are eventually dismissed, resisting or obstructing charges remain on your record.
At your earliest opportunity, enact your right to contact a Wheaton, IL criminal defense attorney. The lawyers at Davi Law Group, LLC are former criminal prosecutors with experience and knowledge on both sides of the courtroom. This unique understanding gives you an upper hand in your case. Call 630-580-6373 to schedule your initial consultation today.
Sources:
http://www.ilga.gov/legislation/ilcs/fulltext.asp?DocName=072000050K31-1
http://www.ilga.gov/legislation/ilcs/fulltext.asp?DocName=072000050K31-4