Can I Use My Cell Phone to Report an Emergency While Driving?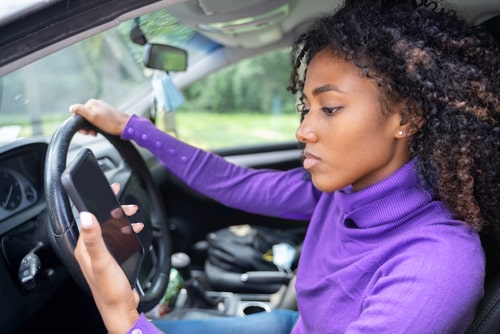 It is illegal in Illinois to drive while using a handheld cell phone, texting, or using other electronic communication devices. This includes laptops, tablets, and other portable electronics. Using one of these devices while operating a vehicle is considered distracted driving. However, there are a few exceptions to this law, including reporting an emergency.
If you are charged with a traffic violation for talking on your cell phone while driving and you were reporting an emergency, you may be able to get the charge dismissed. To do this, you will need to provide evidence that you were reporting an emergency. An experienced traffic violations lawyer can help you secure the evidence you need to fight the charge.
What is Considered an Emergency Situation?
An emergency is a situation that requires immediate assistance because of a threat to life, health, or property. Some examples of emergencies that will allow handheld cell phone use while driving could include:
Even making a phone call with hands-free technology while driving is still dangerous. You should always err on the side of caution and pull off to the side of the road before making a call.
What Other Exceptions Are There to This Law?
Other exceptions for when you can use a cell phone while driving a vehicle, which includes during an emergency, are:
Being parked on the shoulder of the road

Being stopped due to normal traffic being obstructed and the car is in neutral or park
Effective January 1, 2024, these exemptions will not apply when a person is using an electronic device to:
Watch or stream a video

Participate in video conferencing

Access social media
Drivers under the age of 19 years old are prohibited from using a cell phone while driving, which includes the above exceptions. They are only permitted to use a cell phone in emergencies.
How Do I Report an Emergency While Driving?
To report an emergency while driving, you can call 911 or *999. It is best to pull over to the side of the road before making the call. If you cannot pull over to the side of the road, try to find a safe place to stop.
Contact a DuPage County, IL Traffic Violations Attorney
In most cases, using a cell phone while driving is something you should never do. It can easily distract the best of drivers from keeping their eyes and mind on the road ahead. If you are facing traffic violation charges then you should contact a Naperville, IL distracted driving defense attorney. The Davi Law Group, LLC offers free consultations and affordable legal counsel. Call the firm at 630-580-6373 today to go over your case.