How Do Assault and Battery Charges Change When a Weapon is Involved?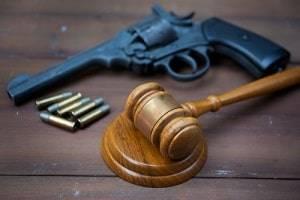 Being charged with any type of violent crime in Illinois can be a scary situation. The uncertainty of the outcome of your case can be a major source of stress for you and your family. Assault and battery are two of the most common violent crimes that occur in Illinois. Depending on the circumstances of the case, you could face a felony charge and many years in prison if convicted. When you are accused of using a weapon during an assault or battery, your penalties often change and become even more serious. The use of a weapon almost always classifies assault and battery charges as aggravated assault or aggravated battery, both of which come with severe criminal consequences.
Aggravated Assault Charges
Assault is a crime that occurs when a person does something that makes another person reasonably believe that he or she will be physically harmed. Typically, basic assault is classified as a Class C misdemeanor. However, when a person uses a firearm or other weapon during the assault, the charge is elevated to aggravated assault.
If the weapon was not fired during the assault, it is typically charged as a Class A misdemeanor, which carries up to one year in prison and up to $2,500 in fines. If the weapon was fired during the assault, it is charged as a Class 4 felony, or a Class 3 felony if the weapon was fired from a motor vehicle. Class 4 felonies carry a possible sentence of one to three years in prison, while Class 3 felonies carry a possible sentence of two to five years in prison. All felonies have a possibility of carrying up to $25,000 in fines.
Aggravated Battery Charges
Basic battery occurs when a person causes bodily harm to another person or makes physical contact of an insulting or provoking nature. This is typically charged as a Class A misdemeanor, but like assault, the crime is elevated to an aggravated battery if a firearm or other weapon is used during the crime.
If a firearm is used and fired during a battery, this is typically charged as a Class X felony, which is the most serious type of felony. Class X felonies usually carry six to 30 years in prison. Depending on the victim, there may be minimum and maximum requirements for the sentencing. For example, if the victim is a police officer, emergency medical technician, or a school teacher, the sentence of imprisonment is between 15 and 60 years. If the weapon is a machine gun or is equipped with a silencer, the sentence increases to between 20 and 60 years in prison.
Contact a Wheaton, IL Criminal Defense Attorney
If you have been charged with aggravated assault or aggravated battery in Illinois, you could be facing stiff punishments. Your first and foremost concern should be retaining legal counsel. At the Davi Law Group, LLC, we have the skills needed to help you fight any criminal charge you may be facing. Our team of knowledgeable DuPage County assault and battery defense lawyers can help you through this uncertain time and avoid a conviction. To schedule a free consultation, call our office today at 630-580-6373.
Sources:
http://www.ilga.gov/legislation/ilcs/ilcs4.asp?DocName=072000050HArt%2E+12%2C+Subdiv%2E+5&ActID=1876&ChapterID=53&SeqStart=21300000&SeqEnd=23400000
http://www.ilga.gov/legislation/ilcs/ilcs4.asp?DocName=073000050HCh%2E+V%2E+Art%2E+4%2E5&ActID=1999&ChapterID=55&SeqStart=27300000&SeqEnd=29800000