Can I Get a Ticket for Using My Cell Phone While Stopped at a Red Light?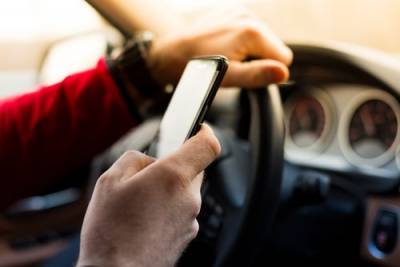 In Illinois and many other states, it is illegal to use your cell phone and drive. The reasoning behind the law is that texting or talking on the phone while driving is incredibly dangerous. In 2019, for instance, distracted driving claimed the lives of 3,142 people according to the National Highway Traffic Safety Administration. Therefore, police prioritize cell phone violations much like they would other serious traffic offenses like DUI.
However, cell phones are one of those modern-day conveniences that are difficult to live without. In addition to using it for communication, a cell phone also gives you directions, and it might serve as a radio for news and music in the car. With phones being more or less a necessity, it is important to understand the limits of Illinois distracted driving laws.
Electronic Communication Devices in the Illinois Traffic Code
In one sense, Illinois law is very clear about using a cell phone and driving. The law prohibits operating a vehicle "on a roadway while using an electronic communication device," but the law also offers a number of exceptions. While most of them only apply to first responders and walkie-talkies, there are a handful of exceptions for everybody else.
According to the law, you are allowed to use your cell phone in the car if your vehicle is parked or in neutral while on the shoulder or on the roadway if traffic is obstructed; if you are talking to a dispatcher to report and communicate an emergency situation; and if you are using a hands-free device like a phone mount or headset.
The law is less clear regarding when you are allowed to touch your phone to, say, check directions or change a song even if you have your phone mounted. Doing it when you are stopped at a red light may seem reasonable, especially if you have an older model car that cannot sync with a phone, but you could run the risk of a law enforcement officer pulling you over and writing you a ticket. If you are charged with using a cell phone while driving, you could face a $75 fine for a first offense and increasing fines for subsequent offenses.
Contact a DuPage County Traffic Violation Defense Attorney
If you think you have been unfairly ticketed for using a cell phone while driving or any traffic offense, contact the Davi Law Group. Our attorneys specialize in not just criminal law, but also defending those accused of traffic offenses like cell phone violations and more. Call 630-580-6373 today for a free consultation with a DuPage County traffic violation defense lawyer.
Sources:
https://www.nhtsa.gov/risky-driving/distracted-driving
https://www.ilga.gov/legislation/ilcs/fulltext.asp?DocName=062500050K12-610.2