Bad Checks, Check Fraud, and Deceptive Practices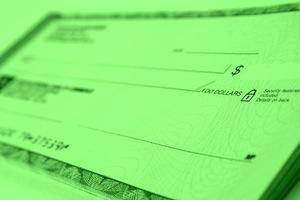 If you bounce a check, it may result in more than just an issue with your bank and the retailer you tried to pay. You may find yourself under arrest and charged with a crime. Even though fewer and fewer people use paper checks, people are charged with different crimes relating to writing bad checks every year.
When is Writing a Bad Check More Than Just a Civil Issue?
When a merchant receives notice that your check bounced, he or she may decide to report you to law enforcement. Writing a check when there are not sufficient funds in your account for the check to clear may fall under the Illinois category of crimes known as deceptive practices.
The law presumes that you knew your check would bounce if there was not sufficient funds in your account when you wrote or delivered the check. You will have the chance to rebut this presumption with your own evidence.
A conviction for writing a bad check is typically a Class A misdemeanor. The maximum sentence is up to one year in jail.
Other Types of Check Fraud
Writing a bad check is not the only kind of deceptive practice related to checks. It is also a crime to sign someone else's name without his or her knowledge and consent to a check, or to create a fake check for an account that does not belong to you.
Another type of deceptive practice involves giving false information to open a bank account or extending the limits on a credit account. This false information can include giving a false name, address, employment information, or income information.
The penalty for other types of deceptive practices depends on the amount of money involved. Certain deceptive practice crimes are considered felonies and are punishable by a maximum of 15 years in prison.
Getting Help and Taking Action
If you are being threatened with criminal charges, you need to secure the help of a criminal defense attorney immediately. In many cases you can prevent criminal charges for a bounced check by taking action to immediately fix the mistake. This includes paying the money the merchant did not receive as well as paying a possible additional fine. However, if you do not get the situation under control quickly, then you may end up getting arrested.
If you have been accused or charged with writing a bad check, or any other deceptive practice, then you need to consult with a skilled Wheaton criminal defense lawyer right away. Do not speak to anyone about your case until you have first spoken with a lawyer. You need to understand all of your options. Call Davi Law Group, LLC today to schedule your consultation at 630-580-6373.
Source:
http://www.ilga.gov/legislation/ilcs/ilcs4.asp?ActID=1876&ChapterID=53&SeqStart=51600000&SeqEnd=54300000