Illinois Gun Laws Explained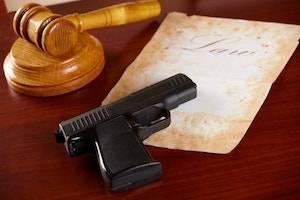 Owning a firearm is a constitutionally protected right. However, each state has unique gun laws that can be challenging and complicated. Consulting a DuPage County criminal defense attorney can help you understand what your rights are to defend a weapons charge.
Illinois has several requirements that one is bound by to legally own a firearm. Illinois requires people without concealed handgun permits to get a firearm owner's identification card (FOID) in order to legally purchase a gun or ammunition. The process will require you to submit to a background check. You will have to wait 24 hours from the time you buy a long gun to take possession of the firearm, and 72 hours for a handgun.
Safety Standards
Illinois law prohibits a federally licensed firearms dealer from manufacturing, selling, or delivering a firearm to an unlicensed buyer. It is also illegal to sell a handgun with a barrel, slide, frame, or receiver manufactured with a non homogeneous metal that melts at a temperature less than 800 degrees Fahrenheit.
Illinois law makes it illegal to for a person to store a firearm that is unlocked and accessible to a minor under the age of 14, if that person knows that minor does not have a FOID card. To legally store a firearm you must:
Secure the firearm using some device;
Place the firearm in a locked container; and
Put the gun in a location that a reasonable person would consider safe from a minor.
It is important to note that if a minor under the age of 21 legally receives a FOID card with the permission of the minor's parent or guardian, then that parent or guardian opens himself or herself up to civil liability for damages resulting from the minor using a firearm.
What Illinois Gun Laws Prevent
Licensing of firearm dealers;
Require owners to register their weapons;
Possession of assault weapons, .50 Caliber rifles, or large capacity magazines; and
Restrict the number of firearms available to own.
Know Your Rights
Whether you have been charged with a weapons offense alone, or in conjunction with another alleged crime, the consequences can be extremely serious. Illinois is well-known throughout the country for having extremely restrictive gun laws. The knowledgeable DuPage County weapons charge defense attorneys at Davi Law Group, LLC are relentless in their approach to alleged criminal acts. Contact our Wheaton, Illinois office at 630-580-6373 or visit www.dupagecountycriminallawyers.com to schedule a consultation today.
Source:
http://www.handgunlaw.us/states/illinois.pdf