Refusing a Breath Test in Illinois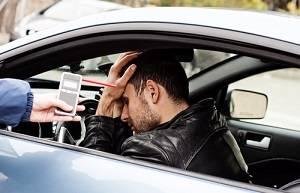 When you are pulled over by a police officer and the officer has a reason to believe that you may be intoxicated, he or she may ask you to submit a blood-alcohol content (BAC) test—most often in the form of a breath test. It is possible for the officer to ask even if he or she does not really suspect that you are drunk, but most such tests—commonly referred to as breathalyzers—are conducted to confirm the officer's suspicions. If an officer in Illinois asks you to take such a test, should you do it? And, what will happen if you refuse? The answers to these questions depend on a number of factors, including when the request is made and what you were doing in the hours leading up to the stop.
Prior to Arrest
The timing of the officer's request is the key element in determining if consequences will apply for refusing a breathalyzer. If you are asked to take the test before any mention of arrest or any other detainment—except for the traffic stop, obviously—you have no obligation to submit to the test. You cannot be prosecuted nor will you face any other penalties for refusing a BAC test at this point.
From a practical standpoint, however, your refusal may arouse the officer's suspicion and prompt him or her to take a more in-depth look at the situation. He or she may look at little closer at your demeanor, speech patterns, and other possible clues that could suggest intoxication. Thus, if you have not been drinking, submitting to a pre-arrest breathalyzer may be the fastest route to getting on with your day.
Incident to Arrest
Once you have been placed under arrest on suspicion of driving under the influence (DUI), the situation changes entirely. According to Illinois law, by driving on the streets and roads of the state, you provide implied to consent to submit to BAC testing if you are arrested for DUI. If you are arrested for DUI and then you refuse the test, your driver's license will be suspended for one year for your first offense. For a second or subsequent offense within five years, you will lose your driving privileges for three years. This suspension applies even if the DUI charges against you are eventually dismissed or you are found not guilty. Any criminal penalties that result from your charges may be added to the suspension.
Balancing Your Rights
Despite the consequences, it may be worth refusing a BAC test if you have been arrested, and the reason is fairly simple. If you fail the test, your license will be suspended anyway—though not for as a long. You will also provide prosecutors with additional, quantitative evidence of your intoxication. While you can still be convicted of DUI without a failed test, it may not be the best idea to help law enforcement and prosecutors build their case. There are also situations in which your attorney can help you dispute the legality of the suspension for refusing a BAC test, but it is up to you in the moment to weigh the potential risks and rewards.
We Can Help
If you are facing the suspension of your driver's license for refusing a BAC test, the experienced DuPage County criminal defense attorneys at our firm can provide the guidance you need. Call 630-580-6373 and schedule a confidential consultation at any of our four convenient office locations.

Sources:
https://www.cyberdriveillinois.com/publications/pdf_publications/dsd_a118.pdf
http://www.ilga.gov/legislation/ilcs/fulltext.asp?DocName=062500050K11-501.1