Retail Theft in Illinois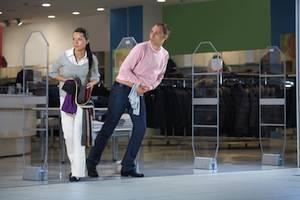 Every year after the holidays, without fail, retail stores complete an inventory process. With the results of these inventories matched with the sales logged into their systems, owners and managers sometimes discover staggering amounts. No, the shocking numbers are not the sales they made after the holidays—these numbers are generally calculated each night after closing.
However, what is discovered are figures which indicate how much product walked out the door without being purchased—i.e. theft. The realization leads to an increase in security measures, which leads to a rise in theft accusations. Understanding charges empowers individuals to combat their cases.
What is Theft?
As schoolchildren, the lesson to not take something that is not yours is often taught; taking something that is not yours is stealing. As adults or young adults, the terms of stealing are laid out for us.
Illinois state law defines theft as:
Taking possession of any item within a store, for sale or not, and carrying it away without paying the full retail value;
Changing the price or packaging of an article so the store does not receive full price;
Under-ringing product;
Removing a shopping cart off of premises;
Representing oneself as the lawful owner of property knowing the statement is false;
Using a theft detection shielding device or a theft detection device remover; or
Failing to return leased product.
At What Point is the Product Stolen?
During the buying process, there comes the point when an item transitions from purchase to a theft issue. The question is if the product is considered stolen as soon as it leaves the initial resting location, when you get home, or somewhere between the two. The answer depends on each case, as well as the intent, which makes theft accusations sometimes one of the easier cases to defend.
Intention is tough to determine and prove, which often works in the defendant's favor—even in a case involving leaving the building. Perhaps you forgot the product was there and did not intentionally steal it.
Laws suggest the following behaviors indicate an intent, including:
Walking past a register without paying; and
Concealment of merchandise on yourself or in your belongings.
You Stand Accused
If you face accusations of retail theft, understand that intent is one of the more challenging obstacles your accusers face. No one truly knows your plan, except you. Also, there are an array of rights and laws that protect you and the handling of the detainment process. A violation of rights or otherwise inappropriate behavior on the part of your accusers may end in your favor.
If you are interested in discussing your options with a DuPage County, IL retail theft defense attorney, contact Davi Law Group, LLC. today by calling (630) 580-6373. We offer several locations successfully serving clients in DuPage, Kane, Cook, Kendall, and Will Counties.
Sources:
http://www.ilga.gov/legislation/ilcs/fulltext.asp?DocName=072000050K16-25
http://www.ilga.gov/legislation/ilcs/fulltext.asp?DocName=072000050K16-1