What it Means to be Sentenced to Probation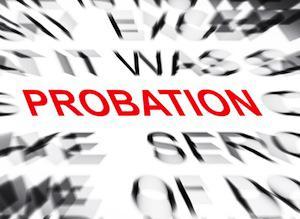 Not every guilty plea or verdict of guilty means jail or prison time. Many people convicted of crimes will instead be sentenced to probation.
While for many probation is better than serving time behind bars, there are still serious consequences to a criminal conviction and probation term.
Length of Sentence
Probation is often an alternative to time behind bars. However, most probations sentences are backed by threat of jail or prison time if the probation terms are not kept.
Some offenders will be given a suspended sentence. This means that they are sentenced to a period of incarceration, but that sentence is not actually executed if the offender complies with probation.
It is possible for an offender to spend more time on probation than they would spend behind bars depending on the crime and the level of compliance with the terms of probation.
Obligations of Probation
There are different levels of probation, but they all impose the same general requirements. When you are on probation you will have to report regularly to a probation officer. The reporting period will depend on the level of your probation. Some will only report once a month, and some may have to report every week. Other common conditions of probation include avoiding alcohol and drugs, not committing new crimes, and paying court fees or restitution.
When you are on probation, you may be subject to searches of your residence without warning and surprise drug tests. You have limited freedom while on probation.
Reasons for Giving Probation Instead of Jail Time
Judges and prosecutors use probation to limit the prison population. Offenders who are the least likely to commit new crimes are usually given probation. Many misdemeanors are seen as too minor to send someone with an otherwise clean record to jail over.
Probation can also be a tool to help offenders get their lives together. Probation can force them to get drug or alcohol treatment. Often times addictions play a role in the commission of crimes. Probation is a way for the court to impose serious consequences and monitor offenders, without overtaxing the jails and prisons.
If you have been charged with a crime, please contact a skilled Wheaton criminal defense attorney. Do not talk to anyone about your case until you speak to a lawyer. You need to understand all of your options. Call Davi Law Group, LLC today to schedule a consultation at 630-580-6373.
Source:
http://www.ilga.gov/legislation/ilcs/fulltext.asp?DocName=072005700K410