Expungement and Sealing Records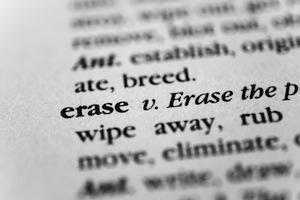 Everyone makes mistakes. Some mistakes can change the direction of our future and potentially haunt us for the rest of our lives. We may even look back after an incident has occurred and wish that we could erase it. Thankfully, the court system has the option to seal or even expunge records. Although these options may not be available in all circumstances, expungement and sealing records have given people a second chance at a better future.
What Can a Criminal Record Affect?
Aside from shaking your self confidence a bit, a criminal record can affect several aspects of your life. Even if you are not convicted of a crime, an arrest and investigation is still a matter of public record and can show up in any background check.
Areas where a negative mark on your background check can effect you include:
Employment applications;
Applying for loans (mortgage, car, personal, etc);
Security clearances;
Adoptions;
International travels; or
Dating life (if an individual decides to check).
Expungement vs. Sealing
An individual's life plans can be hindered when negative marks are attached to his or her past. For this reason, many people opt to attempt to have their records sealed, or may even go further and have their records completely expunged. Often, families will question the similarities and the differences of expungement and sealing, and what each term really means.
Expungement is a process in which you get to start all over again with a clean slate—an incident is entirely removed from your criminal record, the evidence is destroyed, and all public records are removed. This is truly the best method for ensuring that the discretion will not show up on a future check.
Sealed Record: If expungement is not available in your circumstances, the sealing of one's record takes the record and essentially hides it from the world. It is very, very rare that this will ever come to light, except in extreme cases by law enforcement officials. However, for the typical reasons one would conduct a background check, this will keep your incident from presenting itself. It also legally allows you to say "no" you have never been convicted of a crime.
Going through any court process can be extremely daunting. Moreover, it can be aggravated by the fact that you already have a blemish on your record. If you are interested in removing a skeleton from your closet so that it may never come out, it is advised that you seek legal counsel. You deserve a knowledgeable and aggressive attorney to help you receive the justice to which you are entitled. If you are looking for a responsible, experienced DuPage County, IL criminal defense lawyer, please contact the skilled attorneys at Davi Law Group, LLC today at 630-580-6373 to discuss what we can do for you.
Sources:
http://www.illinois.gov/osad/Expungement/Pages/default.aspx
http://www.illinois.gov/osad/Expungement/Documents/Crinminal%20Exp%20Guide/DoIQualifytoExpungeorSeal.pdf