Careful Driving After Drinking Does Not Eliminate the Risk of DUI Charges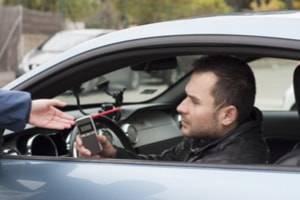 Many drivers mistakenly believe that if they drive carefully after having a couple of alcoholic beverages, then the police will have no reason to suspect drunk driving. This erroneous concept likely stems from the mental image of inebriated drivers drifting between lanes, failing to maintain a constant speed, and failing to come to a complete stop at stop signs. While this scenario exists, the error in judgment is the belief that if someone can sufficiently operate a motor vehicle and obey traffic laws, police will have no reason to suspect alcohol consumption.
Officers understand that more drunk drivers are on the road between certain hours in the vicinity of bars, clubs, and other drinking establishments; therefore. they intentionally look for other reasons to pull over drivers.
Driving Too Carefully is Suspicious, Too
According to The AAA Foundation for Traffic Safety, nearly one-third of all drunk driving related fatalities occur on weekends. Statistics also show that the highest number of drunk drivers are on the road between midnight and 3 A.M., and fatal crashes are four times higher at night than during the day. This information may be slightly skewed as police actively look for reasons to pull people over during those hours, hoping that once the window rolls down, they can collect further evidence of alcohol consumption. In fact, there are several cases in which an officer pulled a driver over because they were "driving too carefully" and it seemed suspicious. Many drivers find themselves pulled over for minor, non-moving violations, such as:
Expired license plate tags;
Inappropriate modifications;
Overly tinted windows; or
Malfunctioning headlight or tail light.
What to Do in This Situation
Police pull people over regularly for minor violations, having no evidence of drunk driving. However, once stopped, officers continue collecting data and evidence for their unfounded suspicions. Once the windows roll down, an odor of alcohol can become evident, or the officer may notice the driver's speech is impaired. Interestingly enough, some drivers even openly admit to their drinking before driving. This information provides the probable cause necessary to make an arrest. The best course of action, however, is to only answer questions in a short but courteous manner, admitting to nothing.
If you still find yourself facing DUI charges, contact a Wheaton, IL DUI defense attorney as soon as possible. The attorneys at Davi Law Group, LLC often assist clients in having evidence thrown out, making conviction impossible. In other cases, negotiating a lesser sentence is the best solution. Call us today at 630-580-6373 to schedule your initial consultation. Together, we will find the best option for your unique situation.
Sources:
https://www.bactrack.com/blogs/expert-center/35042821-the-most-dangerous-times-on-the-road
https://www.dui-usa.drinkdriving.org/dui_dwi_information.php