How Do Recent Changes to Title IX Affect Sexual Assault Cases?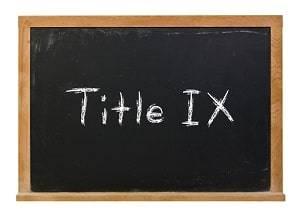 In the early 1970s, the federal government passed the Education Amendments of 1972, the most well known of which is Title IX. Title IX is the federal law that prohibits discrimination on the basis of sex in higher education. One of the major issues that Title IX combats is how cases of sexual assault are handled when they arise on college campuses. Unfortunately, violent crimes on college campuses are not uncommon. According to the Rape, Abuse & Incest National Network (RAINN), around 11 percent of college students become victims of sexual violence while they are in school. Because of this, sexual violence at colleges and universities is taken very seriously. In Illinois, a person who is charged with a sexually violent crime, such as sexual assault, may face prison time, fines, and other penalties, including the requirement to register as a sex offender in some cases. If you have been accused of sexual assault, an Illinois criminal defense lawyer can help you navigate your case.
Understanding Title IX
Title IX is the law responsible for prohibiting any kind of sex discrimination in educational institutions that receive federal funding. Prior to the early 1970s, there was a huge inequality between the way men and women were treated in higher education. These disparities encompassed everything from employment in universities to funding and availability for women's athletic programs. In addition to addressing these matters, Title IX helps regulate how sexual assault and harassment are addressed in educational institutions.
Recent Changes to Title IX
One recent major change to Title IX involves how incidents of sexual misconduct will be handled in educational institutions. Prior to the changes, one person was able to conduct the investigation, decide what evidence to use in the case, and make a recommendation as to what the outcome of the case should be. Under the new rules, which go into effect in August of 2020, the person who determines the outcome of the case must be a different person than the individual who investigated the case. Also, now an outcome may only be determined after a hearing has taken place, and at this hearing, the person accused of the misconduct will have the opportunity to defend himself or herself.
The standard for determining guilt is also changing. Under the Obama administration, guidelines stated that a "preponderance of the evidence" standard should be used when determining guilt in a sexual assault case. Now, the new rules state that college officials can either use a preponderance of the evidence or a "clear and convincing" standard. This means it may be more difficult for victims to prove their cases, as a clear and convincing standard would set a higher burden of proof.
Contact a Wheaton, IL Sex Crimes Defense Attorney
Being accused of a sex crime can be an intimidating situation. In many cases, it can feel like the criminal justice system is against those you. At the Davi Law Group, LLC, we understand the ramifications that a sex crime conviction can have on your reputation. Our tenacious DuPage County criminal defense lawyers will do everything in their power to help you avoid a guilty verdict and receive a favorable outcome. To schedule your free consultation, contact us today at 630-580-6373.
Sources:
https://titleix.harvard.edu/what-title-ix
https://www.insidehighered.com/news/2020/05/07/education-department-releases-final-title-ix-regulations
https://www.rainn.org/statistics/campus-sexual-violence