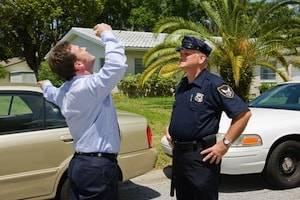 Getting pulled over on suspicion of driving under the influence means that a police officer will take every opportunity he or she has to determine if you are driving drunk. From the moment an officer spots your vehicle, he or she will be gathering evidence that may be used to prove in court that you were driving under the influence.
One way officers will attempt to determine your level of intoxication is through field sobriety tests. There are three types of field sobriety tests:
Walk-and-Turn Test. In this test, officers have drivers walk heel to toe in a straight line and then have them pivot around asking them to walk in the other direction. An officer may also ask you to count your steps as you take them.
One Legged Stand Test. An officer will ask a driver to stand on one leg with the other leg outstretched in front of the body. The driver will be required to hold this position without swaying or moving arms for balance.
Horizontal Gaze Nystagmus Test. When a person is intoxicated, his or her eyes will involuntarily jerk as they focus on a moving object. In this test, an officer will have a driver follow a finger moving right and left watching for the jerking eye movements.
Field Sobriety Tests Are a Poor Measure of Impairment
There are a couple of problems with these field tests. First, a driver may not be able to complete these tasks acceptably when sober. Some people with or without health conditions find it hard to stand on one leg without losing balance. The nervousness that comes with any police interaction can also play a role.
...